We're looking for an enthusiastic Sales Development Representative for a software scale-up in Alkmaar! Are you looking for a challenging sales job, in which you'll be responsible for relationship management and new business generation? Then we're looking for you!
Working as a Sales Development Representative
As a Business Developer, you have an interesting challenge ahead of you! You're going to generate and qualify potential B2B leads. The challenge? The product that you're selling is high-tech and complex. Your expertise and knowledge helps you to approach potential clients via email, after which you'll start a conversation via phone or Zoom. When a potential client shows interest, you'll give an online demonstration in which you'll show the platform and worked out examples to convince the prospect. A great aspect of this job? Sales procedures take approximately 6 months to complete, which means that you have the time to get to know your clients thoroughly. Thus, a big part of your job is relationship management, next to some new business generation.
You're not on your own! You work together in pairs and are linked to a senior within the organization. A great way to learn a lot and gain experience in the sales area.
Are you able to locate opportunities and to act on them? Then we're looking for you!
Job requirements
A completed HBO or WO education, and some work experience in sales;

Communication is your second name: you know perfectly how to get a message to a client;
You have a true winner mentality and see working with targets as a challenge;
You're a problem solver: for every obstacle you encounter, you find 5 ways to solve it;
Native English speaker.
What do you get in return?
A challenging sales job at a fast-growing scale-up in Alkmaar;

A salary from €2400 to €3300 per month, depending on your experience, and a nice bonus component in addition to that;
A pension plan and travel allowance;
Nice extra's like a Macbook and iPhone, which you're allowed to use privately, an inhouse gym and a daily catered lunch;
Interesting career opportunities within the company and room for your personal development;
An informal company culture and awesome colleagues!
About the company
Our client is a fast-growing software scale-up in Alkmaar. They created a no-code platform, which makes it faster and easier to develop apps. The people at the company work hard, but the atmosphere is nice and informal: having fun is very important! The office is located in a beautiful building in Alkmaar and has an indoor gym. In the breaks you're allowed to show your ping pong skills, and when the Covid situation allows it again, there will be amazing team activities!
Do you want to work as a Sales Development Representative in Alkmaar?
Take the first steps towards your new adventure by clicking on the 'apply now' button. If you have any questions about this vacancy, don't hesitate to contact Jeroen. he'd be happy to help you!
Ken jij iemand die in dit plaatje past?
Deel de vacature dan op social media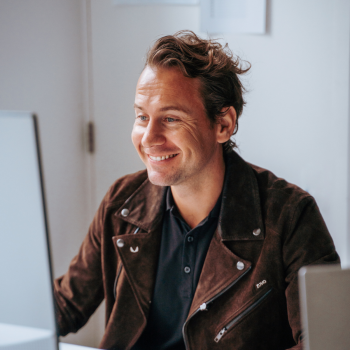 1
Eén van onze vacatures trekt jouw aandacht
2
Schrijf je in en solliciteer
3
In een persoonlijk gesprek leren we elkaar kennen
4
Sprankelend presenteren wij jou bij onze opdrachtgever
5
We begeleiden je tijdens een sollicitatietraject
6
Start met jouw nieuwe baan!